Ok this isnt terribly "indie rock" of me but since my music isn't indie rock (but what is indie rock?) I just had to do it. I can now legitimately claim to have updated my blog from within the buisness class lounge at heathrow. Oh, you heard me! They have the internet here! And tonnes of free food! And I believe theres a table football thing downstairs. I'm not even making this up. Anyway, I've done it now so it's another thing of my list of things to do. Here are the remaining points:



1) Casually tell an NME reporter interviewing me after the release of my second album that I have a doctorate in english and just wrote an
So as the more perceptive of you will have noticed, I'm going away for a period. Whilst away I plan to cultivate some or all of a new crop of songs I'm working on as well as polishing off some of the more mighty books that must be read before september. Those are my aims, my goals. It will be interesting to see how many songs I actually come back with but I have several chord bits to work on so let's hope it all goes well. I will also try and play some open mics in Vancouver so if by any chance anyone from there has stumbled onto this site (!) come check me out!
Yes!
Happy summer all. I shall update this blog infrequently but those updates will be so amazing that they will later appear in my biography entitled "The Inner Workings of the greatest Singer-Songwriter Ever" by Tom Clancy (avaliable on audiocassete read by Richard E. Grant). So tune in!
Yes!
Happy summer all. I've done that once already!
Oo.
Of late I've been enjoying the "new old" Star Wars DVDs courtesy of Parkes, and accompanied by Sarah and Gin (the latter of whom, it turns out, had never seen them before?!). Empire was yesterday and we watched A New Hope the day before… this afternoon I have little doubt we shall enjoy
Well, fun was had… had by all. Cueball has all the good pohtos and if you're lucky I'll show you some when I get them. But meanwhile, my good ol' low-res mobile has all the answers you'll ever want. Here are those answers: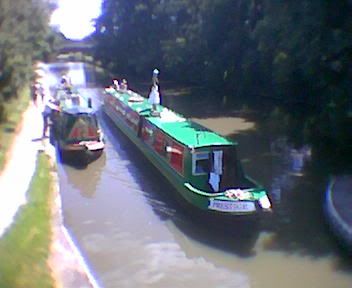 Our mighty vessel cruises like a bastard down the sunny canals of warwickshire. FEEL IT.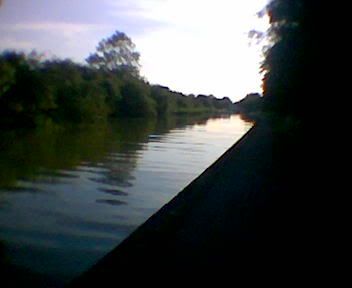 Said canals are the skankiest things ever! But in the evening can look deceptively pretty.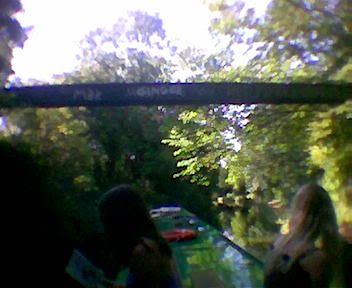 Hilight of the trip was definately this pipe with "Ginger" graffiti'd on it. It was 6′ above the boat so whoever did it had DEDICATION to the cause. Rock on.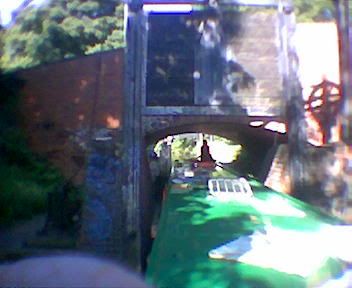 Birmingham day and we pass the "guillotine" lock of KINGS NORTON. I know people who live there!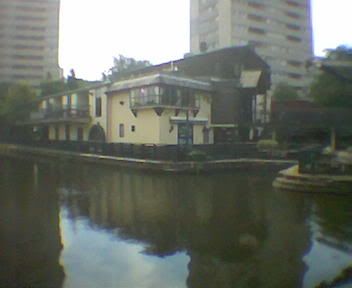 We overnighted in the ham and in the morning we set off past THIS building. Some of you may recognise it!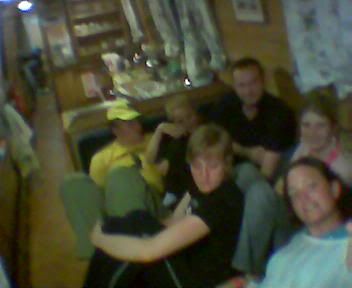 This shot of the team (geoff and I are there, you just can't see us) concludes the briefing. I held off on more cos we all know how annoying holiday photos are, especially low resolution ones. Then again this entire blog is largely "holiday photos" sort of. Only with my non-holidays as well. And in text form. Anyway, no-one's making you read it.
Suck my sack.
Yah so! Played a moderately successful gig with the Jones last night but enough of this gay banter. It's barge time! YES!
See you guys in a week!
Baaaaaaaaaaaarge
Went book shopping yesterday.
YES
Any regular on this blog (hi john) will know how I feel about BOOK SHOPPING. Much like trains, it's a love/hate thing for me. But yesterday hate took presidence when I found some new editions of SHAKESPEARE. You may have heard of this author. He's quite famous. SO WHY DO THESE NEW EDITIONS HAVE CELEBRITY ENDORSEMENTS ON THEM? I'm not kidding. These new "trendy" covers are cartoony and arty and fair enough but they also have
palpably embarrassing quotations
on them from various people who are famous but not as famous as shakespeare is. And there is a reason they're not as famous as him btw!
OK so why is this? This is almost as bad as celebrities on the Big Read (see earlier post). Why are celebrities more important than literature? They're not even good celebrities.
CHRISTUS
. A plague on both publishing houses* for this one.
So mad was I that I regressed ten years and built sofa forts in my living room all night. This is the kind of shit that goes down when ones parents are away for the week.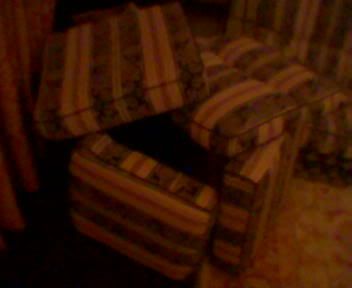 * that was a clever reference to the fact that
PHASE ONE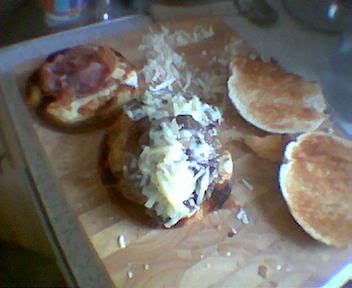 Watch as the Jones places Tescos finest steak burgers on mozarella and parma ham with some
OK guys, I apologise… this has been very lame of late. I have been updating this blog about as well as a woman*. And this isn't a proper update! BUT I WILL DO ONE SOON! Honest guvnor!