Good day fellows. It has been a while, because of my unfortunate encounter with a SONIC DEATH RAY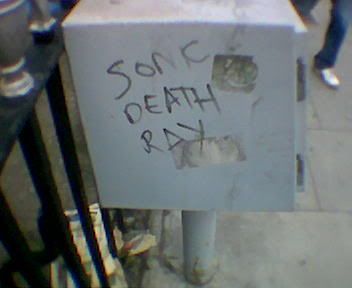 Classy, non? This provided the
metier
for the last few days, which were hilighted by witnessing OKKERVIL RIVER live in concert. Omgzor best thing ever?
The only other thing that has happened has been Guild Wars. Lots and lots of it. Oh, and some gigs. We're moving on up now…
And so, after visiting Sainsbury's, we set a course for ROCK!!!
THIS ROCK!
Yeah I know… it looks tiny. but that's before you slaughter yourself climbing up to it of course. Closer to, it looks like THIS
And the view from it looks like THIS
Yeah I climbed it like a wilderness man! CLIMBED i tell you. WITH MY OWN HANDS! AND LEG! So did James btw
Yeah.
ANyway, we then drove to softer, more relax
Good morrow, chums! Stimulating faceometer news comes today from two seperate and equally important directions: firstly, after years of waiting, the new
media
page is now out of sight my man! The page currently contains five mp3s that you can download or listen to in situ – no more of this purevolume bollocks, say I! Check it out. Also, the first two
gigs
of the academic year have been confirm'd – including another trip to
xpression fm
, the best radio station ever to be produced at the co-ordinates 50deg43mins25sec N, 3deg31mins39sec W. If they get their act together (past expeirence has shown that they may or may not get their act together) you can listen ONLINE or on 87.7fm if you're in the immediate exeter area.
So with kickstartings kickstarting across the board, it's time for me to check out some SG-1. Oh yes it is. And we're walking…
Good afternoon sweet bitches, it is my solemn duty (pronounced "dootea") to inform you that I'm about a s back online as it's reasonably possible to be, albeit on a somewhat shoddy virgin ADSL connection. But soft, that still means I can play guild wars (ding 14 ftw) and watch deep space 9 dvds. Well, I could do that anyway. The second one that is. But it's worth mentioning again because DEEP SPACE NINE IS TEH WIN. If you don't believe me, take a look at this: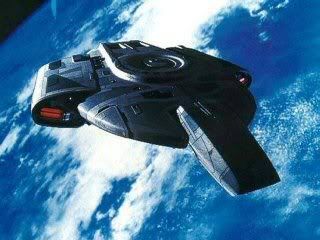 What a cool bastard. Almost as cool as Goren. GOREN ftuwbtw!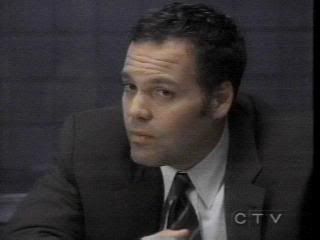 So wise, so manly. But anyway, I've been trying to find a job. THIS IS MUCH MORE ANNOYING THAN IT SOUNDS. It's hard and thus far rewarding work for which you do not get paid! And you have to write CVs. I HATE THOSE THINGS. So I'm off to redo mine and hopefully the odeon will give me something. I can't believe I just said that. Look how low we've come.
Coming up in a future blog: my room ftq-w! (for the quasi-win) ftb!
Well this time I have an excuse for scanty updates! There's no
Ding 12 in Guild Wars = Omgzor
BT Phone Lines in Exeter = FTL
Setting up broadband in general = FTUL

Packing = WTS Rivkin + Ryan,
Its the tendancy of blogs these days, in my circles at least to update less frequently. Now why is this? Is it because my life is getting less interesting, I am getting less interested in my life, YOU are getting less interested in my life, blogging is going out of fashion, fashion is going out of blogging… who knows? ALl that can be known is that I too am updating increasingly less frequently. But I reject absolutely any assertion that this journal is on some kind of slippery slope. Here at FaceOmeter we've been updating this site and its predecessor for over a year and a half and we have NO intention of stopping – I don't believe the wind-down has effected the overall quality of posts so much as removed the percieved nessecity of "for the sake of it ones". So, that was worth saying.



Anyway since we're being all "serious", "no one will comment on this entry" tonight…
Many of you will (not) have been wondering why I haven't posted for a few days. THIS IS WHY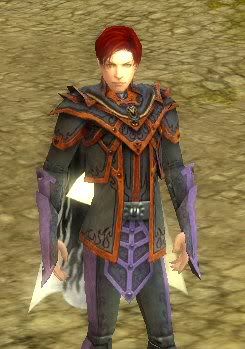 Anton Beauxleigh is a man with a plan! That plan is to dye ALL his armour ginger. but ginger dye is expensive so for now he must be content only with his shirt! HE IS AN ELEMENTALIST MONK, which means he has TEH MAGICS and TEH HEALING. He is currently level 8 but I plan to have him on 9 before the evening is out!
here we see that he has a lighter side as he dances in celebration of a mission well completed with a temporary team-mate NECROMANCER. the duo completed the mission after being abandoned by the other two guys by running away from loads of Charr very very quickly! Ownzor'd!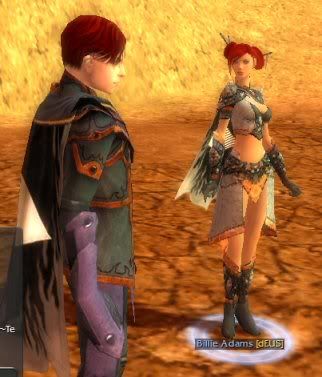 he also has a sweeter side. here we see him flirting with guildmate Billie. She's a bit of alright! She's also Ruari of course.
RUARI