A documentary about James Joyce's masterwork, hosted by newsnight's beloved Tom "I didn't like it" Paulin, the Irish misery-guts of the critical scene. In fact, I was so overwhelmed to see him actually being enthusiastic about anything, even
Ulysses
, that I pretty much ignored everything he actually said about it, focusing only on the sections where Seamus Heaney was invited to read his own poetry over a video of Joyce and Nora Barnacle walking along.
This is why modern (and I now mean modern as in "right now" not as in Joyce's literary movement) writing is on the whole taken
Well it's been an action-packed couple of days, chums and chumbettes. First let me unveil for you the terrifying tale of
The Super Funny Happy FaceOmeter One Night Bristol Tour Of Love!
The SFHfOONBToL kicked off in style as I remembered I was meant to be going to Bristol five minutes after I should have left and ran down the hill carrying a hastily assembled and rather bulky assortment of ukelele, guitar, and OVERNIGHT BAG. The train went as planned however, but the second mishap occured when Jamie "Skip-Buggery" Doe (of Magic Lantern, surely the person I was playing with and who was also generously putting TEAM FACEOMETER up for the night), forgot to answer his phone (he claims it was on silent).
This presented a problem as we had no idea where to find his new house or the venue. After forty minutes of panic though, he called us up having noticed the '123486 missed calls' on his phone, and all was well again.
We saw his pad, and let me tell you, ladies.. its a love shack. Seek him out if you want some classic love. Serious.
So everything looked like it was back on track, but the gig was BESET with technical difficulties, principle amongst which was a STRING BREAKING and there being no sound guy (or indeed, anyone… the artistes were literally ad hocing the evening by themselves, for no money… nice work there guys…). As a result, the setlist got cocked up and Magic and I didn't get to duet. Also my set was cut short by an evil man who turned up and then vanished just as mysteriously…
But all was well, as we went back to Jamie's and enjoyed some high (low) quality TAKEAWAY. This morning, the weather improved and all looked like it was for the better until we went out for breakfast and the Doe locked himself out. HILARIOUS CAPERS ENSUED (ie. we took a 20 minute uphill trek to rendezvous with a housemate on campus who turned out to have forgotten his keys as well) but in the end, THE LOVE WAS INTENSE, a good gig was enjoyed by a worthwhile crowd, and it was a fully enjoyable SFHfOONBToL.
Sorry about the lack of pictures, as usual I completely forgot that my phone did that. FaceOmeter will hopefully be appearing at Invent a Tent II in Bristol early next year.
Meanwhile,
FaceOmeter Recording News

For those who may be concerned:
There are now not one but TWO records featuring FaceOmeter in the works. The collaboration with Magic Lantern is now going to be a more subdued (but probably cooler) release on home-made CDs with paper-poster inlays and plastic wallets. It's going to have two tracks from each of us and the centrepiece will hopefully be one track that we've written and recorded together. My two contributions will very probably be 'Everybody's Alright' (which obviously features the almighty Max Jones) and 'Poets in Towers' (work on the record of which I started last week). We're aiming to have this record out by Christmas and the initial run will probably be something in the way of 150 hand-numbered copies.



Meanwhile, the planned 'formal' release with actual printed CDs and real packaging and things will now almost certainly be a FaceOmeter-only
It's been another day at the FaceOmeter factory. A slow start with several abortive songwriting attempts, then the first third of some potential lyrics for my uber long term project song about the toilets in the lemmy (one i've been planning for ages and which probably won't be complete for about another five years). Then I spent the afternoon crafting a recording of Poets in Towers that I'm actually quite happy with, though it still needs a bassline and possibly even drums before it is officially "anywhere". Spent the last part of the day perfecting (yeah right) my versions of Magic Lantern's "Somebody Told Me" and Neutral MIlk Hotel's "A Baby for Pree"… more lyrics to learn.
Tomorrow, more FaceOmeter love will hopefully wing its way in your direction. One wonders if I can keep the pace up.
Just when you thought I was back into the habit of updating again…
It's been an ill week of illness, and lectures have beenslightly less brilliant than heretofore, so nothing remains but to curl up with Jeff Mangum live and enjoy an "evening in" with some bookage and some computer gameage. BUT FIRST, I REPORT TO YOU LIKE A MAN UNDONE.
FaceOmeter badges are in the design stage! They'll be in a distinctive "ginger & black" with the fO logo and diverse other bits that will depend upon my narrowing the selection. They'll hopefully be avaliable in the next week or so, so that's exciting.
Also exciting is DS9 s7.. we had a bit of a "blip" in the middle of it, where shit episodes abounded, but it looks like we're getting back on form now as we rustle our way in the direction of the finale. I'm so excited. SISKO
(original image from
here
)
Having had you on the tenderest of hooks for FOUR POSTS now, I come to this subject "in the mood". I've just been doing some doodling and have the basis for a little ballad-y type thingy that may or may not end up being used. The more concrete news is that I'm delighted to announce an upcoming CD release from MAGIC LANTERN AND FACEOMETER. As it's planned, the CD will feature 4 tracks from me and 4 from the illustrious lantern – there will be an initial press of 1000 of them, and they will have ARTWORK and the actual CDs will have
OK any fans of MMOs and LOTR prepare to LAUGH at your own sadness
ROTLFMAO!
Check it out in full!
Anyway
Tomorrow there will actually be some fO news. Boy, am I keeping you in suspense. LOLZOR
LOLZOR
OK so I know I promised you FaceOmeter love in yesterday's post, but lets face it… none of you care. AND I WAS DISTRACTED BY SOMETHING BIGGER, MORE IMPORTANT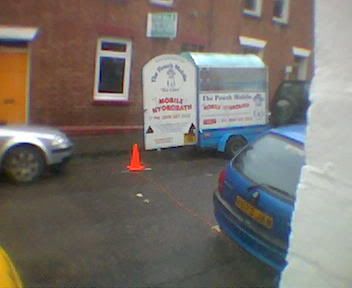 THIS was opposite my house when I woke up this morning. What the hell is it? I braved the street just to bring YOU a close up: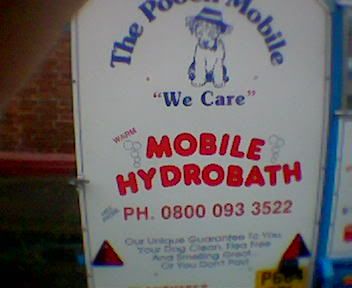 That's right! A mobile Dog Bath. They were bathing the fatty dog from next door. And shampooing it. And drying it. They even gave it a treat at the end, apparently. There are franchises of this avaliable if anybody's interested!
I'm really not sure if this says anything fundamental about our society, but I entertain the conviction that Larkin would have had a lot of fun with this thing. Well, not "fun" of course
Well, it's been long enough since my previous posting, hasn't i? But I have many things to report
THAT WAS A MASSIVE LIE
I've mainly been tied up in administrative affairs. Which is shocking, considering I've been living here for over a month now. But the course has only just got going, leaving me reeling in pure pleasure (obv) and with lots on my plate. Amongst those things: FINDING A JOB. This is preposterously difficult. I mean, seriously. It really is. I mean, honestly. Seriously. But hey, at least the continuous absense of one allows to spend more time on matters such as THIS: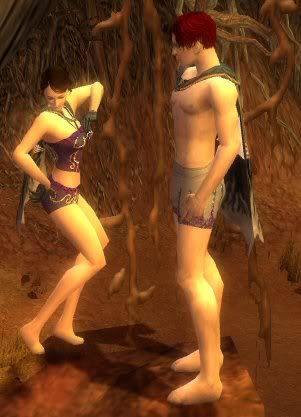 That's right, kids! This was the time when Anna Navarre and I danced naked (ish) on a mountain top in VENTARI'S REFUGE

But seriously, Anton Beauxleigh is rapidly becoming LORD OF THE ELEMENTS. He's now level 19 and spends a lot of his time contemplating the infinate expanses of the desert.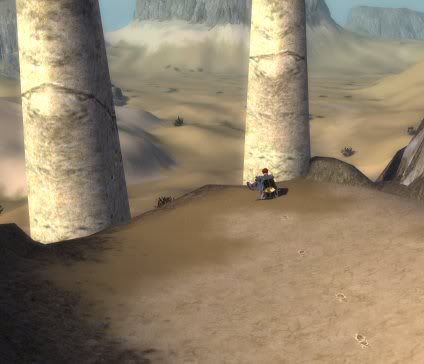 Look at him! He's so deep.
ANYWAY, I'm sure something else has been going on. Ah yes! Teal'c!
TEAL'C!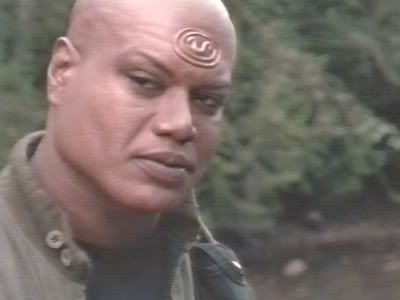 Look at him, man. LOOK AT HIM
OK, lets turn to something a little more serious (but still dirty sci-fi, so those non fannies amongst you can keep on walkin') – we finally got access to serenity yesterday.
SERENITY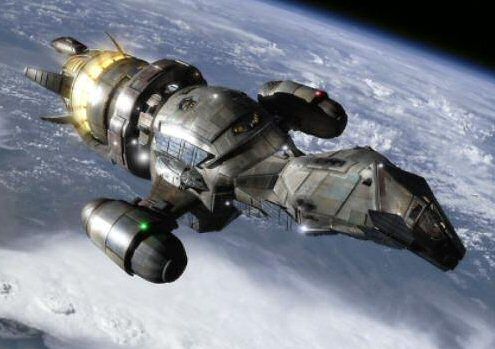 This film met the pretty high expectations I had of it from everyone else who saw it before me. Both fans of Firefly and people who didn't know what
Well hello there. Last night was the debut of Campus Bands' new realtionship with the Lemon Grove, and may it be a long and fruitful one. I was lucky enough to open the proceedings and I'm pretty sure a good time was had by all. Kudos especially to
the Haze
for being am-the-haze-ing, and thanks of course to Iain for giving me multiple love throughout the proceedings.
Jamie "Magic Lantern" "Skipper" "Skipinder" "Buttress" Doe
was down as well and full details of our tortuous set are of course avaliable on
the gigator
. I'll be spending some time next week working on a new website for him, and we're also talking about releasing a joint CD before christmas. Watch this space!