Monthly Archives:
March 2010
It's been too long, folks, but the FaceOmeter Video Web Log is back! With NEW OPENING CREDITS! Jesus.
Lyrics to the new song, by popular demand:
The bedspread is hanging, the guitar is twanging
And I'm in a state where I can't quite relate
To myself any more – there was too much,
And I'm still learning how to be better.
So I take inspiration from dots on the walls,
Not the 'V.R.' you left all tattooed with munitions
You used to obscure all the lighthouse's calls,
It's emotion and ocean in fatal collision,
Some clich
Listen. I don't want to go on about this, but who would have guessed that just a few hours after our packed-out show at the Half Moon, Sam Taplin, Ed Pope and I would be in Bath to see the legendary Michael Graves play with The 'Amazing' Street Cred Band?
Joining us for the ride were Tamsin, ally of old, and Jessie – a recent acquisition on the allies front. We had far too many fun times for me to recapitulate here, and I only have one photo, which is from the Half Moon gig. Here it is: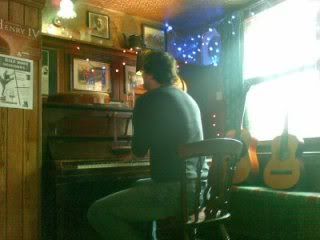 Life is absolutely brilliant. Come to the Gardener's Arms tomorrow to see us rock out again, this time in the company of Brimstone Moth!
Well, one of the saddest developments of recent weeks for me has been the loss of a dear friend and helpsmeet, The Ricochet: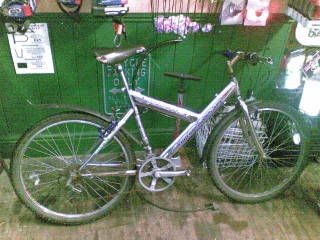 Reports vary, but I think I had the Ricochet for about a decade. Certainly the latest I could have got it was 2001. I was around fifteen, anyway, and the Ricochet is the kind of bike you really want when you're fifteen. Sure, the people in bike shops used to laugh whenever I brought it in for a new wheel, but this is the bike I went to school on, weaving between Birmingham's buses on the Edgbaston Park Road Hill. It toiled up the preposterously steep precipice that seperated by house in good old Exeter from the university there. And when I did my master's, there was a certain sense of satisfaction that came from bombing around on this teenage dream bike in a city full of people riding delicately-tuned wonderbikes with wicker baskets and tingly bells. The owner of one such, a rather famous English professor who had just led a seminar I was at, leaned over to me as he was unlocking it and said to me, confidentially, as I bent over the Ricochet, "that's a nice bike".
It wasn't, of course. 'The Ricochet' was its real name – not a name I gave it, stuck on the side in those incredibly cool 'surfing' two-colour gradient letters. Clearly this was a bike uncared for even by the marketing division of its own manufacturers. But when I was going through a seriously sad patch in 2007 and human contact wasn't helping, it was the Ricochet I took for daily zaps down by the Exe, possibly my only concession ever to the idea that physical exercise can improve your mental condition. That didn't last very long after a stranger chased me several hundred yards – on foot – for no discernable reason; presumably he was trying to mug me. But the Ricochet and I easily outpaced him.
For a year after my master's, the Ricochet languished in the garden of my parents' house in Birmingham. And when I moved back to Oxford last August, it wasn't immediately possible to bring the bike with me for logistical reasons. One of my profoundest memories of that tumultuous period was getting on wheels again and flying up the Cowley road – I hadn't realised anything was missing from Oxford, but I bombed over Magdalen Bridge, teched it up Longwall street, did a donut in the parking lot of the English Faculty, and continued at giddying pace – I think laughing out loud, I'm not sure – for some time. I'm not by any means a good cyclist, or "into cycling", but it was an unbelievable sensation, and for me it wouldn't have been quite the same on any other bike.
Because I'm not a good cyclist, though, and because the Ricochet wasn't a good bicycle, the end eventually came. I walked into the Oxford Cycle Workshop (brilliant, by the way – don't use anyone else) with a bike which had a seized gear chain, broken pedals, no handlebars and no brakes, and asked them to fix it. The chap in there did one of the best double takes I've ever seen. "Fix it?", he said. He gently explained to me that it would cost more than the price of a new bike to make the Ricochet work for another three months. It still took me about an hour to make the decision, during which time I imagine my name was made fairly light of in the shop. I went for tea with a friend. "You need to do it", she said. I phoned Max, who was in the cinema. "You need to do it", he said, somewhat more tersely. I phoned my Dad, the wisest person in my life. "Why are you ringing me about this? Just do it", he said.
So the Ricochet is no more. But my God, it had its day. We had our day.
Meanwhile, the Swindler's bicycle (mentioned previously) plugged a crucial gap: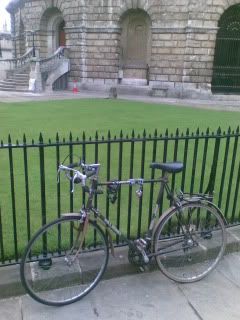 And now, the house rings out with the arrival of The Triumph, my new ride. I need to learn that I can't stunt off pavements any more, but we're getting on okay! It has one of those three-speed internal hub gears which really impress me, and it's much more "Oxfordy":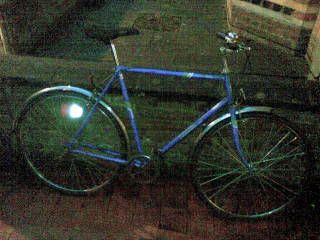 The weather has been gorgeous in Oxford for the last week or so, and we've detoured down the Thames footpath often on the way home from the library to drink in the scenery.
Oh, and here's a totally random bike that I just thought was unbelievably cool: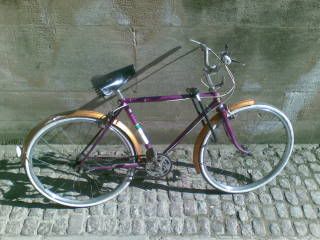 Wow – long time, no blog entry! I've been sharing my room, which is my weakass excuse. I've been doing other things too, and soon I'm going to tell you about them, but in the immediate now it's important that you know about the next three gigs I'm playing – they're all in Oxford and they're all going to absolutely rock.
On the 13th of March – that's next Saturday, kids – I'll be in the Half Moon (which used to be my local) as part of an all-star line-up including Matt Sage and the Medicine, Sam Taplin and Ed Pope. This is part of the offshoot, James Bell's delicious Fringe to the Oxford Folk Festival. It's free entrance, but the venue is very small so make sure you get there in advance of the 2PM start time!
The following Wednesday, 17th March sees almost exactly the same lineup gathered in the Gardener's Arms, but with Roxanne Brennan instead of Matt Sage! This is the famous "Goring Four", whose antics I'm sure you remember! £3 in, get there for 8PM – this will be a bit of a different show because we're going to pass the conch rather than playing discrete sets. Maximum love, minimum… er… hate? BE THERE
Finally, get down to the Academy 2 on Saturday, 3rd April if you can. I'm opening for MC Lars, who is breezing through with K-Flay on his latest UK tour. Tickets can be bought in advance and are £7 for 7:30PM doors. Really, don't miss this one.
As ever, all of this information can also be seen on the myspace page.