Three hours since I left the East Oxford Community Centre; three hours on three buses – one to London, two across it; three hours sitting with a progressively more insistent sniffle coming on, a rising urge for the bathroom which made the walk from the final bus to my house genuinely difficult. Three hours of the most counterintuitive travel I
It's ages since I first heard it, and the recording quality of the version
on the myspace
is terrible, but 'Drops' by The Middle Ones remains one of the most powerful and emotive songs I've ever listened to.
That is all.
Development of Railroad continues beautifully. If you don't believe me, here's a photo of
Sam Taplin
getting a foaming Tasmanian Beer from Lizzie "
Triple Rosie
" Parle: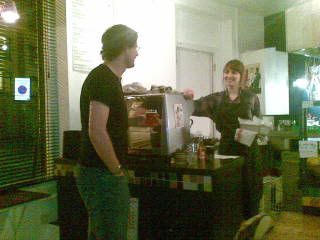 What an image.
It's wintery here now, with the accompanying slight sniffle and enormous stew. Whilst it's tempting to stay in bed, I thought I'd instead go to these two killer shows that Railroad are launching their venue-basement with soon:
1) This is the Kit + Magic Lantern, 16th October 2010 (that's this saturday!)
2) Cal Folger Day + FaceOmeter (that's me!), 30th October 2010
Be there!
East Greenwich Pleasaunce
is a charming little park-cemetary-ping-pong zone on my doorstep here in zone 3, and last Sunday, with autumn in the air, the Swindler and I headed out in the delicious company of Sam Taplin to examine its concession stand up close. We weren't disappointed. The place sells wooden toys and second hand books in addition to tea, coffee and a variety of reasonably-priced breakfasts. They also have the ping pong paddles. After experiencing it for some little time, we headed to a grassier grave area with the guitars and had one of the btter jam sessions I've experienced in recent years.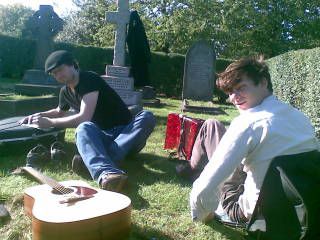 FaceOmeter is progressing at truly glacial speeds right now, but forward movement has not been arrested entirely – I'm playing a show at the Bike Shed Theatre in Exeter a week friday (the 22nd), and you'll also be able to find me in Oxford the day before for Catweazle's 16th Birthday party. Might even try and cook up a new song before then! If not for you, then for the pleasaunce…