Why yes I did have a good Easter, thank you very much for asking! It was a fiercely intense one – I think Max was the only person who didn't cry at some point – but the better for it, with many different flavours of fun and many fine people to share it with.
Maundy Thursday
Arising at 6am, the Swindler and I set sail for Oxford, via the Jubilee line and the HMS Oxford Tube. We spend up the M40 in pleasant weather, and I got my ass thoroughly kicked at Mario Kart for most of the distance. Arriving in the zone, I headed at once into the library (it was closed for the rest of the weekend, so it was necessary to maximise the time), immediately realising that I'd left my hat (my most treasured posession) on board the bus. Max generously headed off to the bus station to get it, and then discovered the market, rendezvoused with his brother and some other italians, and spent the day being a tourist and climbing the spire of St Mary's, from which Oxford makes sense. He also bought a new cricket hat – already it was becoming the weekend of hats. I meanwhile did a lot of reading, pausing for what is rapidly becoming a traditional Mountain Dew break with Jessi: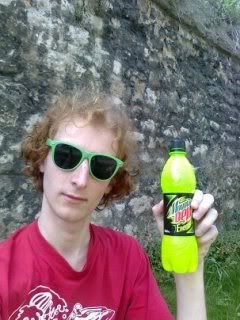 We also had Equadorian Magnums (Magnae?), which are apparently the thing now. When my library revels ended (rather triumphantly, with me finding a reference I'd given up on in the last half hour) Max dispensed with his confreres and we popped up the Cowley Road to get a pizza from Mario's and sit in the sun outside the East Oxford Community Centre, where we were shortly joined by Rosie and Jessi. The sunset behind the clouds over Cowley did pretty things. Nosing into Catweazle, we found Mr. James Bell unexpectedly in charge of the revels, and proceeded to have a magnificent night with a staggeringly high level of artiste quality (most notably newcomer Rory, possibly the illest guitarist I've ever seen in person). Closing the night with a dramatic rendition of 'The Spine-Chilling Skeleton Express' (I had the pleasure of greeting Mr. Taplin for the first time that trip during the performance), we then trekked with Max's tourist fellows across town to their carpark. There was a brief seperation while Sam and I waited for a bus with Jessi, followed by a surprisingly synchronised reunion at Gloucester Green Bus Station to seat ourselves on the comfortable (but irredeemably expensive) S1 to Witney. It not being in evidenced,we took an even more overpriced cab out to the heart of Cameron-land. At Sam's house we watched the first half of Indiana Jones and the Raiders of the Lost Ark, and I can think of no better company in which to do so. After discoursing freely for a number of minutes, we then retired to bed.
Good Friday
Arising to the call of the unexpectedly un-hungover Mr. Taplin, I dressed myself whilst listening to Max learning a Georges Brassens song downstairs.
We stepped out in the direction of the crossword, the weather beautiful. The local Tesco furnished us with the breakfast components we needed, but, lacking newspapers, we proceeded to another shop. Lobster were discussed. Back at Sam's place, Max impressed us all with a supreme breakfast of spanish sausages and poached eggs, and then, after a little time in the sun,
we watched the second half of Raiders of the Lost Ark. It was brilliant. We did a couple of crosswords, then played French Cricket in the green near Sam's house (with a glass beer bottle as bat, breaking cinematically in a beam of sunlight after about half an hour). Dining on the Jones's own pesto on the terrace, we ran into the strange figure of Mr. Sticks McSticks:
Then, after a short music session, it was then time to reapproach the S1. Standing at the bus stop, we freaked out passers-by by practicing close harmonies. Our destination? The Holly Bush Inn, a one-room pub on Osney Island which had generously agreed to pay host to the venerable Matt Winkworth and ourselves for an evening of musical fun. We turned up abysmally late but everybody was very forgiving and it was great to see Matts Winkworth and Bradshaw, who had been absent from Catweazle at a gig of their own the previous evening. We all of us took turns on the stage, ignoring a little ignominious treatment from a passing heckler, and a pleasing and alcohol-fuelled time was had. Highlights included Rosie's intimate performance (Max's new cricket hat visible on Jessi on the left here):
And James Bell's exceptional cover of 'Torn':

At the close of the proceedings, I had some small difficulty extracting my compadres from their alcohol-infusion location, but there was a watershed moment when Max decided to prolong his stay in Oxford unexpectedly, and we eventually all three of us made it onto the S1 for a majesterial return to Sam's place which I'm sure only made the bus's other occupants hate us slightly. The casualties of the evening were hats – Sam's peaked cap left in the pub, my (thankfully resiliant) signature leather affair sullied with beer by the redoubtable Bradshaw. Sam earnestly attempted to commence a viewing of The Last Crusade, but as he'd lost the DVD we we to bed instead.
Holy Saturday
We awoke in our classic fashion and dined on hot cross buns. Sam regailed us from the comfort of his piano: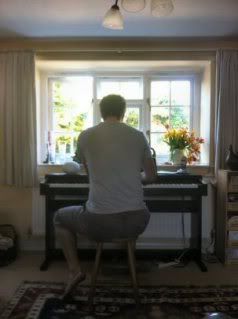 And we then did two days of washing up and smashed through another crossword, preparatory to Sam's departure to the land of Shropshire. We were on another errand, and, after an extremely significant music-making session (Spooky EP nearing completion now) we boarded the S1 for the last time of the weekend to hit up Port Meadow with old favourites Jessi and Rosie. We moseyed through Jericho to Rosie's new house (near, but not quite on, my favourite street in the universe), stopping off along the way for suncream (in the chemist's, an irate lady expressing dissatisfaction with the NHS turned to me suddenly and said "and how is Catweazle?", which sorted me right out), gourmet cheese (the Swindler, he cannot resist) and other food-goods from the co-op. We collected an extremely adorable dog:
As well as our companions and set off into the meadow. The weather was textbook. Pretty soon we were humiliating ourselves by leaping into the Thames in our underwear, and as that would look pretty demeaning it would obviously be stupid of me to post a photo of it on the internet.
After feasting on cold ones chilled in the river's waters and feeding cheeserind to the zealous hound, we continued our stroll towards Wolvercote, where the Swindler had a close encounter with some of the wildlife: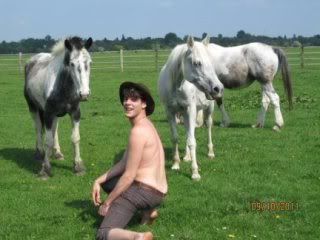 We circled around by the Troust, discussing gastropubs (hatred), down though the ruined nunnery and the lock and along the river's Western shore, towards Binsey. Sticks McSticks made a timely reappearance:
He always seems to be around just when Max has gone. Anyway, a fallen tree jutting out over the water had been weathered into an extremely gripless surface and proved difficult to climb:
However, I eventually made it to the top and the Jones and I sat up there looking picturesque for a little while:
By this point, it was time to head to the giddyingly overpriced Perch, where we sat in a picturesque garden across from a mighty willow tree and tried to ignore the massive group of Oxford University idiots in blazers who were sitting at the next table completely and loudly missing the point. Having achieved this, we trotted back in the direction of Jericho, recovered our belongings, deposited the dog (with some reluctance), strolled down St. Giles, through Radcliffe Square, and eventually made our way onto a bus to Headington. Arriving at Jessi's house, we had a pleasant sit in her garden for some time, watched the season premiere of Doctor Who, ate a very pleasant meal, watched a kids film called Holes (which had Jon Voight in for no reason but was peculiarly compelling) and finally hit the hay after reading a large number of childrens books in Jessi's spare bedroom.
Easter Sunday
Delirious with the success of the previous day, it is difficult to express the joint pleasure Max and I felt upon finding we had been gifted a significant amount of chocolate and a brand new Easter chick mug upon arising.
After a delightful breakfast, we played a little music in the garden and then revisited the idea of French Cricket, with predictable results: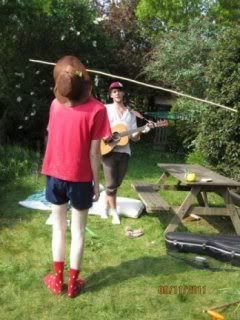 But after all this chilling, it was time to ramp up the fun, and we headed to the fun fair. I was incredibly serious about this:
Arriving in South Park, we partook of many of the fair's delights, including some badass cork-gun shooting, at which Max won a large sack of sweets. Even I got a few things!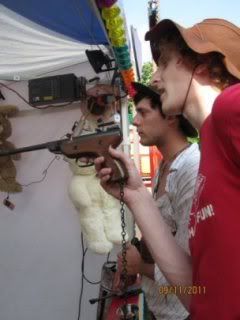 Rosie turned up again and we pushed ourselves literally to the limit with the horrible twister ride, which almost had yet another disasterous consequence for my incredible hat (thank goodness for my incredible shoelace-neckstrap tech?). Following a bitter dispute a year ago between Max and myself, there were old scores to be settled on the bumper cars,
so we ended up cheerily bashing each other around for a few joyous minutes, to general hilarity.
Max had a terrible hot dog and I had a terrible burger. There were also, at various points, candy floss and toffee apples. We went on the Temple of Fun twice. It was… fun?
There was really too much that was good about this wonderful contraption to relate here, but the best bit was probably trying to
Janelle Monáe
over the wiggling bridge (an impossible challenge).
We bumped into mirrors, twiddled on twiddly things, shook left and right on shake-left-and-right-y things, and generally appreciated the vibe. One of our number, I decline to say who, fell over, in flagrant disregard of the clearly posted (and atrociously-punctuated) signs. After this hedonism, it was time to retreat to the regular play area – passing out of the fair, we partook of the zip line for a while (the Jones pretended to be his namesake Indiana in a memorable stunting session). We were also cheered at the sight of an old-school roundabout. Rosie got into a pipe, which was enjoyable,
and after pleasing ourselves with the various other amusements on offer, we ended up only slightly-awkwardly crammed into a large hammock swing, where we swung gently playing Cheddar Gorge for an unspecified amount of time.
Eventually, we strolled lazily back up in the direction of Easterly food at Jessi's place. We took a short detour through Headington Quarry That Was, where we blew dandelions like the picturesque bastards that we are:
This picture makes me feel excellent about the record we'll all presumably make together one day. After getting back to Jessi's, partaking of some food and cleaning ourselves moderately, we took about four million candles out to the garden (I still have a bit of wax on my guitar case) and played songs while the stars came out. Then, after a frantic pack and a dash to various buses, it was time to go our separate ways. Of the long journey home towards the London night I say nothing, for it has no place here. Nor will I speak of Monday's spring cleaning (although it was actually quite satisfying). Or of Tuesday's delighted review of the various photos from the weekend's key participants (thanks to all of them). No, let the account leave us on the A420 at 10:30 on the evening of Easter Sunday, the weird fuzzy intensity of the previous days and hours still dangling around us.
I still haven't quite worked out what to do with it yet. A lot of this blog is about systematically describing us having fun. I always say it's to help me remember, years down the line, what's important to me now, and why I've made the choices I have. That's surely true, but it's legitimate to ask if it doesn't in some sense ruin things – it's impossible to convey, and I imagine it
will be hard to remember, after some time has passed, the intensity of the nebulous sense of conflicting and indefinite emotions that this weekend inspired in me (in all of us, I think). Simply relating what happened (this account is very cursory) and even posting photos (I've used about a sixteenth of the ones we took) will only prod at the ghost of what all of this was really about. The best you can hope to do with journal-style writing like this, it seems to me, is set memory in process, and 'process' here isn't about literally remembering what happened so much as it's about creating a structure by which you can understand yourself, and the world (I'm following David Shields here).
The blog can only relate what we did: we stayed at a friend's house, went for a walk in a meadow, went to a fun fair, played a few shows, and came home. A caprice. An Easter break. Why then all this writing, all this time spent in literal and mental archiving? What's the significance of this weekend? What was it about? Why did it affect us all so much? For those questions, we need the songs, and I suppose that's a reason that Max and I are still writing. And will continue to – for one of the things I'm overwhelmingly left with, as so often on concluding an entry like this one, is a sense of more to come. There's a certain perverse joy in not knowing exactly what it is yet, but here's to finding out.