Well, well. Here we all are, and I've told you almost nothing about my summer. There is a reason besides business and laziness (I am constantly afflicted with both): we're putting together a sort of clip-reel video montage of the stuff we've been up to, so video rather than words will be the primary way in which this summer gets remembered. Nevertheless, and especially given that that won't be finished for a few months, there are a few little things which it would be neglectful not to mention on here.
Truck Festival (22-24 July)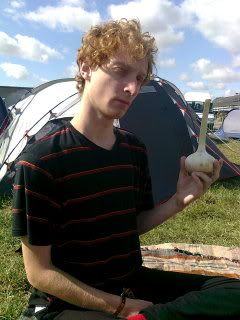 Despite their later failure to pay us due to insolvency, Truck put on a show that I (at least) thoroughly enjoyed, and we had good fun playing a couple of short sets on the Cabaret stage at the behest of Pete the Temp and alongside allies such as James Bell and Matt Winkworth. In spite of this, though, and in spite of our luxury camping position in the 'Artist and Crew' zone (right next to a brigade of enormous Welsh security guards), I felt more like a punter than a musician at this one. Perhaps this was because I suddenly realised, midway through seeing band after band, that I don't really go to see bands any more! But there were some good ones, the winners (for me) being the No 1 Ladies' Accordion Orchestra, with Bellowhead and Gruff Rhys coming in a close second. More than being about even bands, though, this was a festival memorable for the stupid scottish accents which the Dapper Swindler and I adopted for the whole thing, the fellowship, the sun (and drizzle), the strolls around the festival site, the feeling of being in one place for a few days with nothing to do except have a good time. We also totally rocked the camping – sharing with our friend Alice turned out to be a wise move, for she brought both herbs and gramophone to the situation. A lovely time.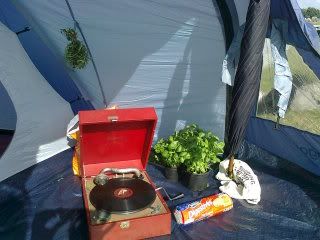 Promming with Friends (30th July)
Sam "This is my Duck" Taplin and I met in Paddington station – he in a mustard yellow tie and sunglasses, me in my classic 'lime executive' horror shirt – and, after debauching our wallets in M&S, strolled with picnic in hand through the streets of west London. After relaxing in Hyde Park for a brief while, we considered the possibility of sleek jumpsuits and waited at the Albert Memorial for a succession of allies to join us. With everyone there, including Ed "The King of Town" Pope, we took things over the the prom queue, where sticker books, crosswords, magazines and picnics kept us entertained in the sunshine until the opening of the doors.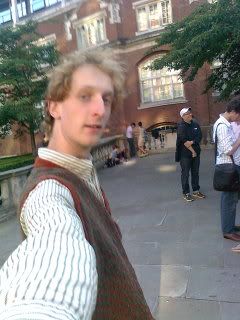 We dashed to the front of the audience pit, had a wild time under the auspices of Andris Nelsons, and then went our separate ways – Sam and I finishing the evening in a nearby eatery with my parents before going back to my house and spending the entire night saying "do I shock you?". Over and over. Thus were new memes born, and new times had.
Kent (4-7 Aug)
A succession of drizzles boded ill for our departure from London in an overfull Peug – The Dapper Swindler having crammed in musical instruments, camping equipment, a fair chunk of food, and our compatriots Jessi and Rosie. With them in the back seat, we hared our way through manhy a country lane before alighting at a campsite somewhere in the vicinity of Sandwich. Over the next few days, we dealt with cliffs and ocean, beaches aplenty, several dogs, a book or two, utterly fresh oysters, a large quantity of food, some rather nice sunshine, a savage drive through Margate, old friends in antique markets, more than one game of cheddar gorge, some wankers in the opposite camping pitch, an orchard at midnight, a picturesque hamlet with giant pigs in it, and a succession of progressively more awesome garlic-scented stargazing sessions. So garlic.
Savage Riots (8-10 Aug)
Especially lately, this is a blog of positive things on which exact details of the London turmoil of recent times has no place. Inappropriate as it would be to comment extensively on that particularly unsettling week, it bears mention here that one consequence of them was that I unexpectedly went to Birmingham and spent several hours hosing down a freezer. Life will throw some curveballs at you.
Co Wexford (11-15 Aug)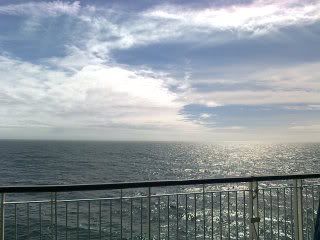 With my love of ferries and the fact that I'd never been to Ireland before, this trip was something of a no-brainer. The phenomenally terrible train from Cardiff Central to Fishguard harbour (a Soviet-looking two-carriage monster which can't possibly have been cleaned or repaired since 1987) was more than made up for by the digitality of the ferry, on whose deck I appreciatively stood for nearly the entire 3.5 hour crossing (breaking only for a brutal square pie in the canteen). In Wexford, I rendezvoused with home-visiting housemate and friend and we spent several days sampling the various extravagancies of that particularly lovely corner of the world. Wide harbour promenades, Mussell ships at the quay while the moon rose over them. A Secret opera house. The world's most phenomenal beach party. A secret Shadow of the Colossus ruin in the middle of a wood. An ancient lighthouse. A mountain quarry, complete with quad bikes. Numerous entirely untested kinds of crisp. A department store with a murdering hole in the basement. A drunk guy who wanted to fight me. For what more could one ask?

A Week in Oxford (17-22 Aug)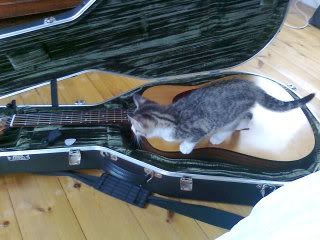 Jessi's family were off to Edinburgh for a few days and her kitten needed some fresh legs to sink her evil little claws into, so I dutifully installed myself in Headington and spent a few days wishing I was an Oxford resident again. Mobile on the Triumph thanks to the kindnesses of fate, I took tea in a bike shop, went to a 1930s dance party, consumed a fairly large amount of cake, swore at a number of research libraries on the internet, and generally lived the life. I hosted another Catweazle – my best yet at the helm, fairly unequivocally – of which I have already spoken. On the Sunday, Jessi and I were joined by a hungover Sam, with whom we indulged in sunny ice-cream, tree and crossword frippery until Alice arrived, when we watched The Lion King.

Shropshire (26-28 Aug)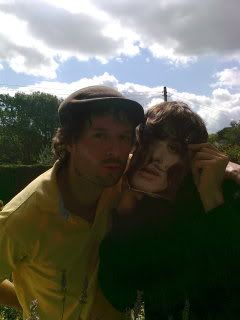 At Church Stretton station, in the shadow of the mighty hills of Shropshire, I rendezvoused with Taplin and, an hour or so later, The Dapper Swindler. The latter had arrived from his meat course in Monmouth parallel to my arrival from London. Our objective: put the finishing touches to the Spooky EP, and have an enormous amount of fun in so doing. I will remove all suspense from this paragraph by telling you now that we achieved both goals, bunking down in the excessively pleasant house of Sam's excessively pleasant mother, making friends with her remarkable hound Billie Bones, taking the country air, rehearsing at the out-of-tune piano, watching The Naked Gun 2, eating decidedly well, doing (more) crosswords, reading in the pleasant chair in the porch, playing French Cricket in the sun, and generally being in severe danger of relaxation. Of our Spooky work I will say only this: that when it comes out in a couple of months, this CD is going to mess you up. It's going to blow your face right off your body. Literally.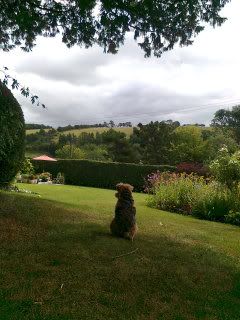 So that was August! What's more remarkable is I somehow also managed to write a couple of academic papers, reorganize my work blog, and do a reasonable chunk of research for my course over this period. And Bright Idea is still alive and kicking over at Railroad! I'm not quite sure how it all fits together really – I'm also not quite sure how any of it really makes me a world famous rockstar or results in the composition of brilliant music. So that's IT. NO MORE TRIPS. FACEOMETER HAS SPOKEN.
I'm off to Birmingham on Wednesday for a week or ten days and, of course, the big Catweazle outing to Fort Clonque, on Aldernay, takes place in October.