A lengthy session deleting all the spam comments from this blog (there are certain shoe manufacturers who seem mega-keen to attract the attention of the FaceOmeter fanbase) has made me realise how ill-maintained the thing is. It's partly that, as I recently heard A. S. Byatt exclaim on Start the Week, there's an increasing tendency to let everything trickle out on Facebook and Twitter (FaceOmeter is on both – are you following?), resulting in fewer 'event posts' on the blog. If Byatt is right (I think she'd hate even the blog) then the record we've been working on over Easter won't be out for another few years – and though it's only going to be six tracks long this isn't an absurd prediction; I think we originally wanted the thing out in 2009.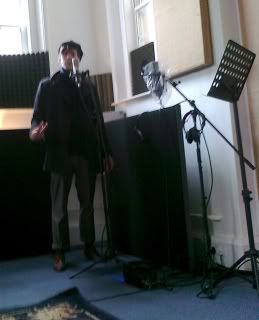 The Swindler records another scintillating vocal take
Nevertheless, we continue the slow crawl towards victory, and, as I'm constantly saying on this thing, the journey will probably be worth it. We have three of the six tracks entirely recorded now, with the fourth lacking only a bassline. I can confirm to the eager hordes of fans champing at this blog like crack-addled terriers that 'Five Figs Down' and 'The Ballad of Old Bob' will both feature on this record, Vibe, Drill, and "It". And I can confirm that Dean McCarthy, master of the Spooky EP, is making a sublime comeback as engineer and general all-round good guy. We'll need a few more sessions to finish the thing, but there's every chance it'll be out this year, especially if I go on Twitter and Facebook less.
Over Easter, the Dapper Swindler and I swanned around Dean's hyper-expensive recording studio making stupid noises, tugging his hair, and yelling homoerotic innuendos at his family members. I broke his shower and threw up in his toilet a couple of times, and the Dapper Swindler genuinely intended to get him a bottle of wine, but left abruptly when it was revealed that the boots he wanted to buy from his favourite shop on Turl Street were too expensive. Together, the Swindler and I compelled both Dean and his wife Liz to participate in several of the most brain-numbing crosswords I've ever battled, until it was 2am and everyone had headaches. We enjoyed several great meals together – including a delicious Easter roast courtesy of Liz, a curry the size of Mars, a hamper of grade-A cheeses, and a brilliant visit to the new café in the Heyford Hill Sainsbury's (I love supermarket cafés, of which perhaps more anon). We played Wii Golf into the small hours, watched Game of Thrones, made several highly enjoyable journies to the Isis tavern, discussed the nuances of the British Higher Education system, battled on FIFA, and ate a dangerous quantity of chocolate and wine gums. We also, when there was nothing else for it, recorded a whole bunch of horn players for our song as well as numerous other small flourishes, did a pile of editing work, and sketched out the remaining bits of the record.
Good Easter. Hope yours was too!