Well my goodness, it's been a long time since updates…
Should have more for you tomorrow regarding the new CD, which is now definately called To Infinitives Split. Here's some speculation about tracks:
1. Everybody's Alright
2. Leaf Fall Timetable
3. Your Flies are Undone [?]
4. Mellow Drama
5. Poets in Towers
6. A Brief Distraction
7. Third Single
Campfire Songs is on a backburner, but here's what it looks like:
1. Introduction
2. [?]
3. Cosmic Picaresque
4. [Untitled – a song about me going to the toilet]
As I say, both of these tracklists will probably bear little resemblance to what finally gets produced. I'll tell you more after tomorrow's efforts towards recording Poets in Towers. Again. Bloody hard drives.
Let's cheer ourselves up with this image of My First Ever Instance. RAGEFIRECHASMFTUW!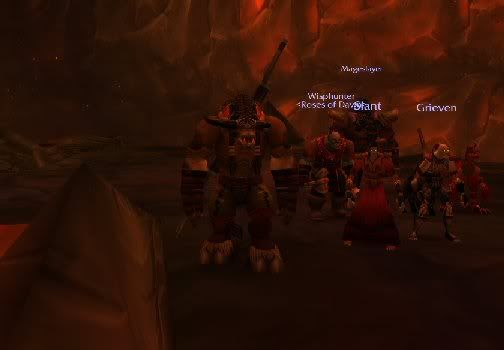 I notice that of the last six pictures I've uploaded, five have been to do with world of warcraft. This is not so good.