Hey Guys! As followers of this blog will undoubtedly be aware, its been my pleasure for the last almost-two years to run Bright Idea, the open mic at
Railroad Café
in Hackney. Bright Idea was never a staggering success in terms of numbers, but it's virtually always been a really positive and fun experience to get together with some friends and strangers once a week and play songs, tell stories, read poetry, and all the rest of it. Unfortunately I'm leaving the capital pretty soon, so the Bright Idea of two weeks from now (June 27th) will be the last. There's another between now and then, June 20th, which will run as normal.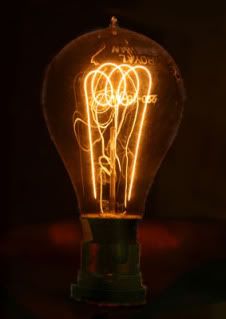 Please do come down – it'd be great to go out with a bang (like all the best lightbulbs). Those who have been will know that our open stage is unparalleled in London for intimacy of venue and diversity of performers. That's a bold claim, especially given our fairly low average turnout, but I really do believe it – we wanted to make it more or less like people playing in our sitting room, and that's what happened.
If you never came along, these next two weeks are your last chance! There's a facebook event for the last one here: please invite people and come along yourself. It's the beginning of my last days in the capital (a short record about this is coming your way shortly) so it's essential to do justice to the time spent here so far and make this a night to remember! I really hope you can make it. 20th and 27th June, Railroad Café, Morning Lane E9 6LH, 8:30PM+, £2 in.