So yeah, I know it's an aesthetic rather than factual decision, and I wish to interrogate it on aesthetic rather than factual terms… I'm just thinking,
Fruit
and Nut? I mean, I'm not saying raisins aren't fruit, but what are the chances of you finding some pineapple in there?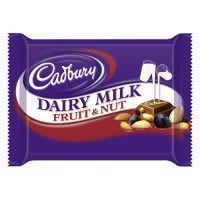 I know, I know. I just think the title raises false expectations! I traced this today as being behind the reason I've always felt uneasy about Fruit and Nut. I'm not saying it doesn't taste good, I'm not saying the title isn't technically correct, I'm not saying it would need to be if it wasn't, I'm just saying… what am I saying? I guess I'm saying that if fruit and nut MACHINES only had raisins and hazel nuts we'd all be very rich.
AS RICH AS THE SINEWY TASTE OF CADBUR- okay I'm off