Development of Railroad continues beautifully. If you don't believe me, here's a photo of
Sam Taplin
getting a foaming Tasmanian Beer from Lizzie "
Triple Rosie
" Parle: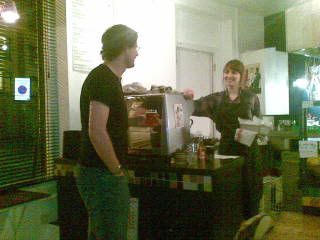 What an image.
It's wintery here now, with the accompanying slight sniffle and enormous stew. Whilst it's tempting to stay in bed, I thought I'd instead go to these two killer shows that Railroad are launching their venue-basement with soon:
1) This is the Kit + Magic Lantern, 16th October 2010 (that's this saturday!)
2) Cal Folger Day + FaceOmeter (that's me!), 30th October 2010
Be there!