These guys added me on Myspace recently. I have no idea who they are, but they are clearly chillers of the highest order.
I insist that you check them out at once
.
Re Mario Kart Wii being out at last – I could write many words, but since a picture is worth a thousand of those, let's enjoy Parkes's initial reaction: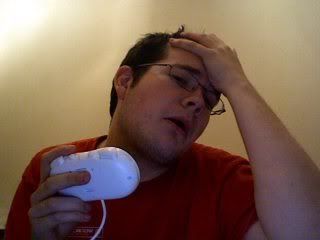 (It's good)
Also, the deluge of Video from Madrid and elsewhere has begun – a few things are in the works, but for now there's an excellent video of the aforementioned Hola a Todo el Mundo playing Abril No Tan Cruel for you to enjoy. See how I embed it. SEE HOW I EMBED. OH YES.