Tuesday was May morning, and drizzle notwithstanding I stood in the shadow of Oxford's mightly Clarendon building and danced in the summer with Andy Letcher's band of rogue misfits: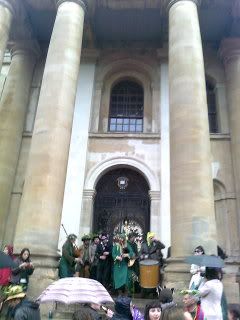 Enough of the past – what of the future? Next week is practically seething with FaceOmeter-shaped events! Here they are:

Wed 9th – Open Mic – Bright Idea 8 billion
Those of you who haven't been to my weekly Open Mic at the Railroad Café in East London yet, it's always a blast, generally intimate and pressure-free, and a great way to experiment with new material or just have a jam (or watch others doing the same). We welcome all kinds of unamplified performance and the cake is excellent! This week we're having a special shindig to celebrate our 8 billionth night! At £2 in, you'd be foolish to miss it – I'll probably be playing a song or two as well as hosting the bloody thing…
Fri 11th – Storytelling – Railroad Café
Also at the Railroad, this is the sequel to an event which I did last year with Jamie "The Magic Lantern" Doe. This time we have expert storyteller Chris King in the feature spot, and Jamie and I will be performing some prose of our own too (I should be writing mine right now instead of doing this). This is a risky new experiment and I'm very nervous about it, but the last one went pretty well and novelty is exciting! Do come and see it if you're in the zone (Facebook event here).

Sun 13th – Music – Old Queen's Head
I'm opening an all-dayer at this charming venue in the vicinity of Angel. There's FREE ENTRY on this one, plus an entrancing array of other artistes including Mademoiselle Mademoiselle and In Golden Tears! Okay, I admit I've never heard of either, but I bet they're good because I know the promoter and she's one of those rare promoters who knows what they're talking about. Come and enjoy the fun! I'm on at about 2:00pm and the action runs to midnight.
Illness has beset me in recent months but hopefully these different shows mark the start of some kind of creative comeback. If you're in the London area, I hope you can make it to something! To incentivise you, here's a picture of Koch "Cockque" Murphy, a new resident of my house (long story):