You may not know this about me, but I've played some pretty big venues. I've played in the place where Radiohead had their first gig. And I've walked stages that have been trod by Oasis, Muse, and John Cleese. Seriously. I've played at Ginglik in London, and the now-deceased Jug of Ale in Birmingham, and the Pop-in in Paris. Small venues of course, yet in their own small ways legendary. But tonight, my friends, all that can suck me off. Because now, my dear, dear, readers, I've played at Hullavington Town Hall.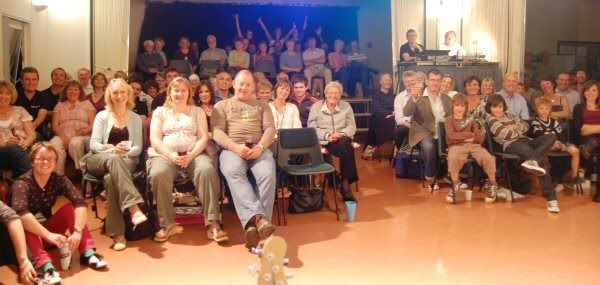 I was going to do a Cov-style travelogue of the HarFest experience for you internet types, but I'd like to leave a hazy, warm mystery about the exact chronology of events so I'm simply going to repeat a few incidents for posterity. Here, out of context and in no particular order, are some of the things we experienced:
Being licked by a cow
Throwing Pip around like an olympic hammer
Being thanked by a grandma for playing "the duck song"
Being chased off an RAF base by a mum with her kids in the back of the car
Attending an exhibition of locally-made lace
A discussion about the exact nature of postmodernism
Finishing the lyrics to the first new FaceOmeter-Dapper Swindler co-write in two years, and playing the song in question in a deserted train carriage between Chippenham and Bath while the sun beat down
An african drumming workshop in a beer garden
A rush of teenage girls for our last CDs
Scrambled Eggs with Michael Graves, the Peter Marshall of Wiltshire
Accidentally being on the same train as each other on the way there, despite coming from different cities
Having key roles in our team's victory at The Minister Requires (Max) and The Stupid Newspaper Wordsearch Game (me)
Being paid for jamming… in jam
Overall though the abundant memory is already simply one of laughing really heartily, practically all the time, and having good old fashioned innocent Fun, the weekend marred by awkward sexual degeneracy only three times.
All hail the Vibe, and all hail the mighty citizens of Hullavington.