Perhaps you've ever wondered how to cook FaceOmeter and the Dapper Swindler's 'Beef and Things Taginealoo'? Fortunately it is our pleasure to reveal the secret recipe for the first time. This recipe was perfected just now in the heartlands of the South Downs, and I particularly like that it's really simple, quick, cheap, and easy to prepare. It's only a five-step method, perfect for working mums!!! Enjoy!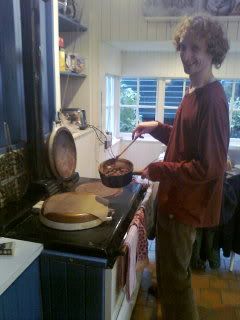 You will need:
800g-1kg Lean Beef
500g Shallots
1 Large Onion
2 Tomatoes
3 bulbs Garlic
17 Cloves
Two Veg Stock Cubes
A Beef Stock Cube
Olive Oil
Red Wine
Red Wine Vinegar
Tomato Puree
3tbsp cinnamon
3 springs rosemary
2 nutmegs
Handful of Black Pepper corns
12 bay leaves
Black Pepper
Salt
1 packet dried apricots
2 aubergines
2 corgettes
2 large potatoes
8 carrots
2.5tbsp cumin
1.5tbsp turmeric
1.5tbsp dried coriander
1tbsp paprika
10 chopped mint leaves
1tsp dried chilli flakes
5tbsp Yoghurt
Brown rice, washed
700ml water
A splash of Ale
Method:
1. Make a Beef Stifado; cook at 130degrees C for five hours.
2. In another pan, fry off about half of the remaining spices with bay leaves until they make a pleasant paste. Add the stifado to the paste along with the vegetables, apricots, some stock, the water, and so on. Put in more spices.
3. Return the contents of the pan to a large casserole dish. Place in the slow oven of an aga and leave for twelve hours.
4. Scrape blackened contents of casserole dish into large saucepan: add ale, wine, more water. Simmer on a very low heat for two hours.
5. Move to a moderate heat, bubble for 45 minutes, and serve over rice with a dollop of yoghurt.
OFFENSIVELY SIMPLE
NB. We did actually do this