Quickly, while the memories are still warm… grab my hand.
I'm starting from the "real" start of the tour, because nobody cares about the crappy Bristol and Dawlish gigs and the rainy rehearsal periods. TAKE ME STRAIGHT TO GLORIOUS EAST PRAWLE.
29/7 East Prawle A curious way to begin our mysterious journey into the unknown, saying goodbye to two precious houses that have played parts in the lives of several of the PB cast members. Sam's house was the hardest logistically, and so it was that at just after 3pm the contents of the tour as well as those going on it were spread out on my patio for what was to be the last time. It swiftly became apparent to me that (1) demand for tea far outstripped supply, and (2) we had a lot more stuff to take on tour than we had cars to take it in. Not one to be daunted by such beaurocratic problems, Sam managed to fit everything into the four glorious road-stallions of the tour. I'm still not exactly sure how he did this, given that he was at that time the most stressed out human being I have ever seen in my entire life. But he managed it, and soon (not soon at all, it took fucking ages) the tour was officially ON THE ROAD. Thanks largely to Max's mapreading, which I shall call "Maxreading" (other contenders included "Bollocksreading" and "Lost"), our journey took just a little bit longer than those taken by our colleagues – but the sun was out for the first time in weeks, the vibe was, if not in the car, then at least somewhere in the county (waiting), and George, the Jones and I had a delightful meander down to Devon's south coast, stopping only for (1) me to glance at the map for 4 seconds and solve a problem it took the Jones at least an hour to get to grips with* (2) a dash over a country gate into a field for an incredible view,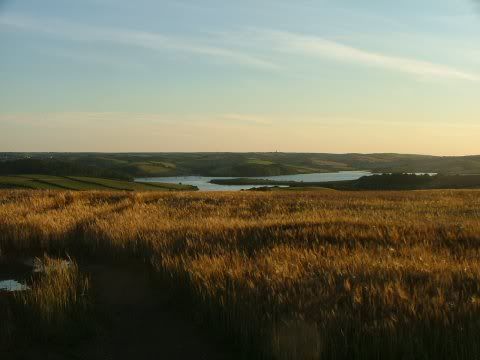 and (3) an attempt to find CHILLINGTON, an incredibly named town in the vicinity of East Prawle which turned out not to exist (see 31/7). East Prawle brought with it an incredible pub, a rejuvenated Sam, and hints that the vibe was skulking his way even closer across the good-tilled earth. After having a really great ginger beer (luscombe's) and setting up camp by carlight (hilarious; we later became incredibly elite at it, of course) we decided to encourage his approach with a late-night beach mission. We lugged drums and guitars down about 30 minutes of track and eventually found our way to the beach irretrevably barred by massive cliffs. Still, the view was stunning, so we took stock, played some tunes, enjoyed the full moon, got terrified by the full moon (Max and Will only), and traipsed back up the track to the camp, stopping only to get majorly spazzed out by someone's washing, which we took for a ghost.
30/7 East Prawle Awoke to the sounds of George explaining to the assembled that he'd been fined