Paxman: …And now, the writers have 150 points whilst the actors languish on 125
Will: Where are the universities?!
Paxman: …is a kind of plum eaten only by the tribes of Palatnu?
BEEP
Voiceover guy: Writers, famous guy!
Famous writer: Bellevinian Shrub-whistle. Thatch. Powder.
Paxman: It's actually 'Belluvian Shrub-whistle thatch powder' but I'll allow it. Your bonus questions are on 'Chairs of the early 90s'
Will: What?!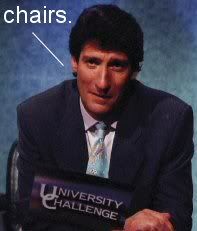 Paxman: …bringing us to level pegging here, a bit like Promethius LOL
The Teams: LOL
Paxman: So here's another starter question. Which famous restoration cobbler created the shoes for the accession of Charles II's favourite cook?
BEEP
Voiceover guy: Actors, some actor or other!
Some actor or other: Tim McGrantles
Will (a fraction of a second